First of all, I'd like to thank everyone for really using and enjoying our first featured collector, and welcome our second: our own moderator Jay Rideout (AKA "CBJ")! Jay has a truly remarkable collection, one that started out exclusively "Bikes" like many collectors did, but has extended into the contemporary mind-set that almost all of us have at this point: without putting any words in Jay's mouth - we buy what we like, whether or not it has the Bicycle logo emblazoned upon the tuck case. Even so, his collection is primarily laser-focused on good old United States Playing Card Company's Bicycle brand (and Bee, Tally Ho, etc). Without further fanfare, here's Jay's 1-on-1 Q&A interview session:
---
Q: When did you start collecting playing cards?
Back in Sept/Oct of 2009 I was making a delivery for Cadbury to a wholesale store in Toronto. The person I had to meet up with was busy, so I roamed around the store for a bit, and came across a section where they had a variety of playing card. I was immediately drawn to 2 decks… the Bicycle Limited Edition #1, and the Bicycle Guardians.
I play poker a couple of times a month and we always played with basic rider backs. I had never seen different Bicycle decks, so I thought I'd pick up the 2 decks and try them out at the next game. A week or so later, a friend hosted a poker game and asked me to bring my poker chips over. I brought the new decks over as well, and we used those for the night - they were a huge hit.
The next day, I thought I'd hop on YouTube to see what other people thought of the decks. I started watching a review of the Guardians deck, and right away I thought there was something wrong… my deck didn't have a double backer!
I called Bicycle to let them know that I had a defective deck, and they told me that only the T11 version has the double backer.
So, this brought me to T11 where I found even MORE cool decks, and then by researching more… I came across Ellusionist. I kept talking about these playing cards to my wife, and showing her the decks online. She told me to make a list, and she'd try to get me a few for Christmas.
Well, Christmas morning came… and WOW!!
She bought me all 24 decks on my list, AND had a friend of mine make a display box for them. I was blown away! Here are pics I took that day:
Q: How many decks are in your collection?
As of today (Apr 28th, 2014), I have around 720 different decks in my collection + my minis. I also have around 350-400 duplicates.
Q: What types of decks do you collect?
Bicycle… Obviously.
Q: Where do you think the hobby is going and what changes do you see coming soon? (or what changes do you think will happen?)
I see major changes that have started in the playing card industry... lead by designers like Jackson, Paul, Alex, Randy, to name a few. These designers are pushing the limits of design, and forcing card manufacturers to innovate. You can see these changes happening with tuckbox design, embossing techniques, die cuts, foiling etc. And, with new card manufacturers as an option, things are only going to get better! Competition is ALWAYS a good thing for the consumer, it forces companies to bring their A-game.
As for changes I'd like to see…
I guess the main one is for the prices to drop back down to manageable levels for heavy collectors. I know that with extra bells and whistles, comes extra fees that designers have to pass along to the buyers. It's just getting very expensive when designers are releasing decks at a starting price of $14-$20 per deck.
Q: What is the oldest deck in your collection?
I really don't have many vintage decks at all. I think the oldest deck I have is a Bicycle bridge deck, and an old rider back (not sure of the dates)
Q: What is your favorite deck in your collection and why?
I have many favourite decks in my collection… to narrow it down to one single one is tough. I'm a HUGE fan of the Jackson's Federal 52, and Alex Chin's Seasons decks.
But, if I had to pick one, I'd say the Bicycle Shadow Masters from Ellusionist.... made even better with blacked out edges...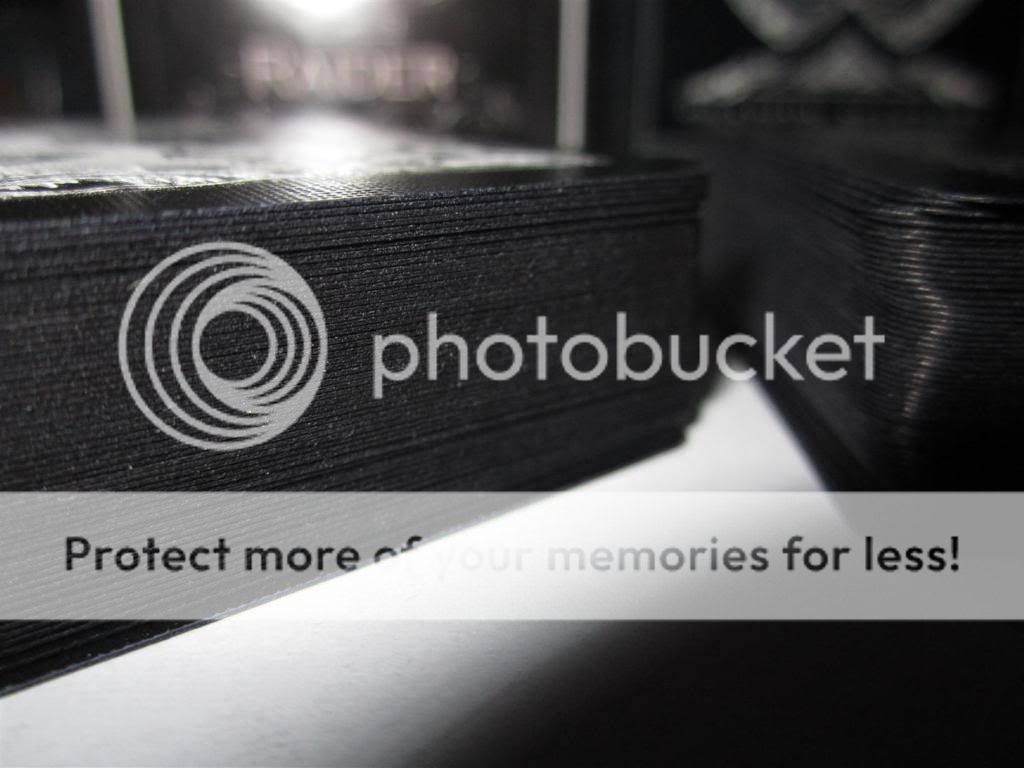 Q: What deck that you do not have would you most like to have?
I'd love to have sealed vintage Bicycle decks, but they go for crazy prices.
As for modern Bicycle decks, there is one deck that I can't track down.
And yes, it's real.
The Bicycle New Era (gold Edition)
Q: Why the nickname CBJ?
Well, it has nothing to do with hockey or the Columbus Blue Jackets.
Let me start by saying that I've worked in the chocolate industry for over 20 years…
In my early 20s, I started hanging out with a new group of friends. In our group there were 3 Jasons, so if I came up in conversation when I wasn't around…
someone would ask "which Jason?", and the response would be.. " the chocolate bar guy". This quickly changed into Chocolate Bar Jay, and then became CBJ.
Most of my friends call me CB or CBJ. Even their kids call me CBJ
---
Like any collection I've never really seen close-ups of, I can only lust after certain decks that I've never even seen before - perhaps heard tails of.
...and now - fire away! Jay is happy to answer your questions and I can assure you what you see now is just getting us warmed up. --M