I have posted elsewhere on UC about how I started collecting decks of unusual playing cards quite by accident in 1968, and how that, over time, became an obsession.
By the mid-1990s, I almost lived and breathed the hobby, and often thought of designs for decks I would like to see created. I often wished that I had the artistic skills neccesary to get some of tose designs down on paper.
Unfortunately, I was (and remain) totally devoid of any drawing or painting artistic skills. I can barely draw a stick figure. I tried using graphic editing software (MS Paint, Paint Shop Pro, etc) to draw some of the playing card designs in my head but the results weren't much better than if I had attempted them by hand.
I enlisted the help of a friend who is a professional graphic artist, hoping that he could realize some of the designs I had in mind. Unfortunately, his heart was not in the project, and it quickly ran out of steam.
I worked as a computer programmer/analyst for more than thirty years (1976-2008), much of that time as an independant contractor, other times as an employee.
For several years in the 1990s, I worked a contract writing programs for Buena Vista Home Video (BVHV) - the video division of Disney.
Every December, they held a screening of clips from films that Disney (and its film partners) would be releasing in the following year, and all of the programmers at BVHV were invited.
I attended one such screening in December of 1994. I forget what most of the films we saw clips from (one was
While You Were Sleeping
), but the one which absolutely floored me was
Toy Story
.
Before showing us the clip (about the first ten or fifteen minutes of the film), they told us about this radical new way the film was created. It was not drawn by hand, but every frame of it was generated using a computer!
CGI animation is now known to everyone, but in 1994, it was totally unknown to the general public.
As we watched the clip, the "programmer" side of my brain was imagining just how the images I was seeing had been generated. As the clip rolled on I was very excited, thinking "If I can find an affordable program for generating photorealistic images, maybe
I
could create images like this, even without being able to draw a lick!" By the end of the clip, I was imagining some of my playing card designs, done in photorealistic computer graphics!
That evening at home I scoured the web, looking for programs for creating photorealistic graphics.
I found one which really intrigued me: POV-Ray (
http://www.povray.org
.). Not only could it be used to create some stunning images, it was free! And, better still, it used an interface much like computer programming - something with which I was VERY comfortable!
Using a "scene description" language, you decscribe a setting, and the objects in that setting, giving them shape, size, color and texture. You then place virtual light sources to illuminate the scene, locate and aim your virtual camera, and then run your scene description through a program which generates an image from that description.
It probably sounds very strange to a layperson, but to a computer programmer, it was very similar to what I had done for a living every day for many years at that point!
I downloaded the program and dove into learning the "scene description" language. In no time at all, I was creating simple (make that EXTREMELY simple) images: a ball sitting on a box, that sort of thing.
As my knowledge of the language grew, I started creating more and more complex images. Finally, I started considering just what sort of a deck of playing cards would I try to design using this tool.
Since all objects in the "scenes" were described starting with basic geometric shapes (such as cubes and spheres), the easiest objects to create were those closest to those shapes (such as the aforementioned ball sitting on a box). creating convincing-looking objects of ireegular shapes (such as a cloud, a stone or an animal) was much more difficult.
Probably the most difficult of all to create convincingly is the human form, and this was waaay beyond my capabilities with the language. So then how was I going to create Jacks, Queens, Kings and Jokers?
I started considering the number cards in a deck, and how I could use photorealistic graphics to create those.
As I thought about it, I got an idea: Why not use this method to create a full-transformation deck?
=====[ TRANSFORMATION DECK? ]=====
For those not familiar with the term, a Transformation deck is one in which the pips (suit signs) on each card are worked into a picture. For example, a Two of Diamonds might become two diamond-shaped kites in the sky. A Nine of Clubs might become nine club-shaped trees, or whatever the artist invisions.
Here are some examples from my collection (not from my deck!):
=====[ "FULL-TRANSFORMATION?" ]=====
The cards in Some transformation decks have the pips worked into a scene, but the pips are not in the same location and orientation (right-side up or upside-down) as the pips on that card are in a standard deck.
This type of transformation is called a "Semi-transformation".
A "Full-transformation deck" would be one in which the pips on each of the cards
are
in the same location and orientation (right-side up or upside-down) as the pips on that card are in a standard deck.
Although I have seen and liked many semi-transformation decks, they have always struck me as sort of "cheating" - the artists avoiding the challenge of creating a convincing scene wherein the pips are located and oriented in the standard way.
Transformation decks have been around for centuries, and the ways various artists have worked pips into scenes on these cards is sometimes quite clever and unexpected.
I had seen dozens of transformation decks over the years, but none of them using photorealistic computer graphics. If I could come up with one, it would be a first!
I started coming up with ideas for transformation cards, and envisioning ways of realizing those ideas using photorealistic graphics.
Here are some designs from my deck, which I never completed:
=====[ MY THREE OF CLUBS ]=====
One of my first designs was this three of clubs: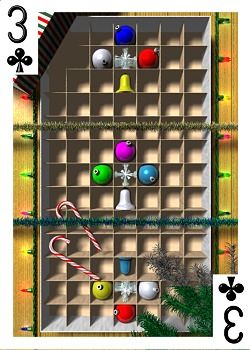 =====[ MY TEN OF SPADES ]=====
Using fish to represent spade pips had most likely been done before, but I thought that a photorealistic take on it could be pretty cool.
I had intended to add much more detail to this one (a bed of kelp rising up behind the fish, perhaps some air bubbles in the foreground, etc), but never got around to it.
=====[ MY FIVE (OR SIX?) OF CLUBS ]=====
I had an idea of using room fans as Club pips.
That would be fine for the Ace of Clubs, but for other club cards, where would you find multiple room fans together?
I decided that a shelf in a store where fans are being sold was a good location for such a scene. I modeled the fans after one in my home, and added ribbons blowing in the fans' wind (as I often see in store displays of fans) both to more clearly identify the "scene" as being in a store, and to add, along with blurring the fan blades to simulate their spinning, some "movement" to an otherwise static scene.
At first, I was not sure how I could have some of the fans upside-down (the pips on the lower half of a card are usually upside-down).
I finally got the idea of using the fans' boxes to solve that problem, and this card was the result.
Initially, this was to be my Six of Clubs, but I later modified it to be my Five of clubs in order to fulfill a request I had been given to supply a Five of Clubs to a project where a deck was being published which was to contain images of one card each from 56 different decks (52 + 4 jokers), each supplied by a different collector. I had been assigned the Five of Clubs. Not finding an appropriate one in my collection, I decided to submit the Five of Clubs from my Transformation deck.
Unfortunately, I had not created the deck's Five of Clubs yet, so I took this Six of Clubs, added a fan/pip in the center and removed the fans on the sides of the center shelf, and -
voila!
- I had a Five of Clubs! The above image with Seven fans was generated halfway through this modification.
When that collaborative deck containing my Five of Clubs was published, the man putting that project together asked me what the name of my Transformation Deck was going to be, so it could be mentioned in the book which was to accompany the collaborative deck. This was in 1999 and, ever the optimist, I hoped that my deck would be published the following year and so told the man that my deck would be published as "Transformation 2000".
Alas, I never finished the deck.
This section of the UC forums has sparked my determination to resuscitate and complete the project, and my posting this topic/thread is the first step towards my doing just that. in hopes of getting a reaction from you guys about my design.
So, what do you think of it so far?
=====[ MY TWO OF SPADES ]=====
I was really happy with the way this one turned out.
Initially, I had the hands of the clock at ten minutes after Ten o'clock - the time which analog clocks are often set to in advertisements (due to its aesthetically-pleasing symmetry), but then changed it to read 10:13, a "wink" to my daughter Genevieve, who loved the TV show
X-Files
, in which the time 10:13 was often shown for some mysterious reason.
=====[ MY EIGHT OF DIAMONDS ]=====
One of my more complicated designs. Each of the paintings hanging in this ar tgallery is actually a separate scene/image I created, each an homage to a different famous painter and/or painting.
Dali, Escher and othefs are so honored in the scene.
The missing pip at bottom center was going to be a diamond-shaped scuplture or mobile, but I never finished the card.